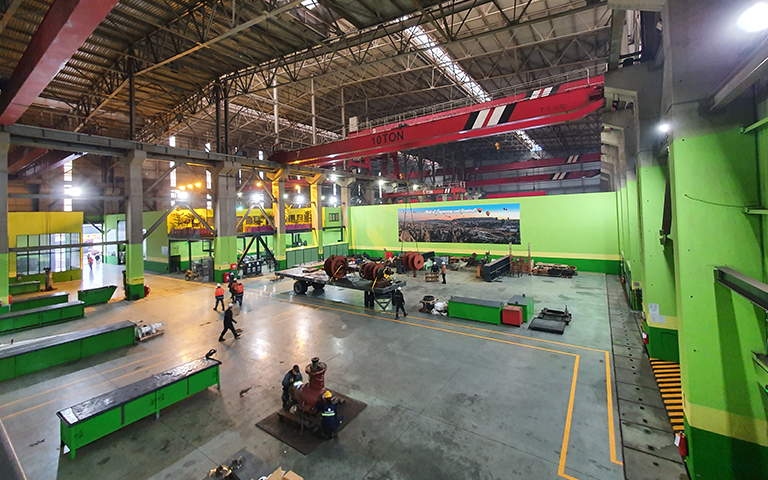 In house 10 workshops are located on a total of 50.000 square meter land in Beşiktaş Shipyard. Inspecting the equipment which is under repair takes a few minutes, because everything is under one roof. These workshops are operated by yard technicians under control of project engineers
Extensive machinery equipment (like Borverk, lathe machines up to 12 meters, balancing equipment, electrical motor oven etc…) enables the yard to carry out most of the repairs without leaving premises.
Steel Workshops
Total 25.000 sqm. area with a capacity of 5 to 14 tons per day equipped with 3 CNC plasma cutting (t: 100 mm), bending and curving machinery.
Mechanical Workshops
There are 3 mechanical workshops with extensive equipment like Borverk, lathe machines up to 12 meters capacity and various types of tools; where boring, lapping, machining of parts, overhauling of equipment like main engine units, valves, pumps, heat exchangers, tail shaft, propeller and hub can be carried out.
Outfitting Workshops
Various outfitting can be fabricated and be prepared for fitting on board. There are 2 workshops with extensive machineries for any size/type productions or modifications.
Pipe Workshop
Pipe workshop is total 1.500 square meter area for steel, stainless steel, copper and hydraulic pipes in two separated floors with extensive equipment.
Electrical Workshop
Equipped with an oven, balancing tools and related parts, carrying out overhauling, rewinding and balancing of electrical motors are efficient and economic.
Insulation Workshop
All kind of insulation works includin g galvanized plates, panels and ventilation trunks can be carried out in these workshops.