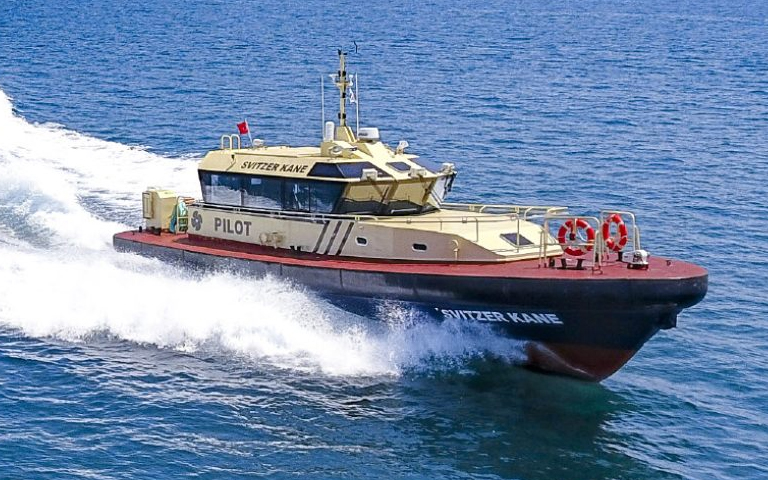 Besiktas Workboats signed contract at Middle East Sea Trade for 17m Fast Pilot Boat.
Vessel will be operating for Saudi Aramco Oil terminal at Gizan, Saudi Arabia.
Propulsion  power will be provided by two 750hp  Volvo Penta D16 Main Engies.. Each engine will be coupled to Twindisc MGX5145A gearboxes, each driving four blade high speed propellers. . TwindiscMGX Quick Shit series gear box, No other marine transmission in the world shifts as fast and smooth as the Twin Disc QuickShift, yet it provides amazing slow speed control at one knot or less. This arrangement will give the vessel a maximum speed of 22 knots at loaded condition
Below main deck will be the accommodation, comprising four berth cabin, wc, shower and galley area including entertainment unit on the wall. Specially designed entertainment unit connected to surveillance system which will allow crew to follow up the operation of the vessel even from the galley area by surveillance system on the deck and other areas.
Besiktas Engineers will customize the vessel according to tough weather conditions of Saudi Arabia. Hull will be painted with special coatings and paint called Mascoat marine DTM. (thermal barrier coating)
There will be more challenge in wheelhouse to keep this area cool enough to operate the vessel in 50 degree Celsius due to surrounding of large windows . Special glasss will be used to lower the impact of the sun inside the wheelhouse area and also speacil sun screens will be fitted on all windows.
Due to important operation of the boat there is much more custom features will be added according to Saudi Aramco Regulations.