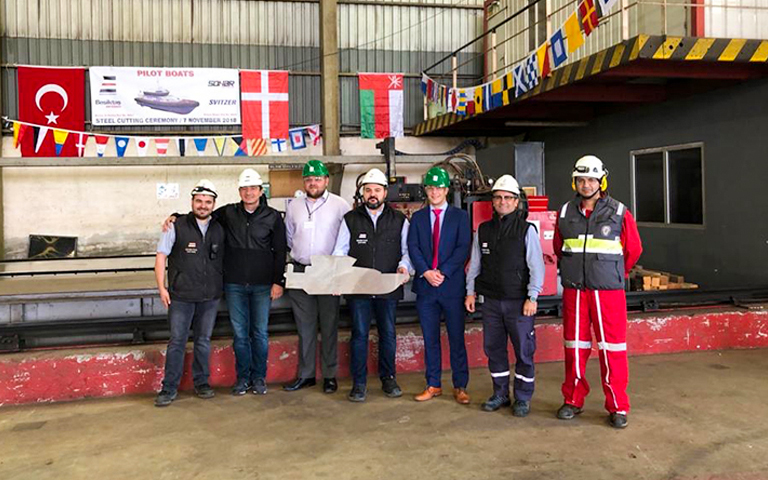 Executives from Sohar Port and Freezone, Svitzer and Besiktas Shipyard at the steel cutting ceremony for the two new pilot boats on November 7th
Construction has started on two new pilot boats that will be used at the port of Sohar in Oman. Work is now underway building Al Bateel and Majan at Besiktas Shipyard, Istanbul, and Jacob Bac, Deputy Harbour Master, Sohar Port and Freezone, and Peter Rosewall from Svitzer Sohar, jointly inaugurated the steel cutting ceremony earlier this month, with Besiktas chief executive, Yavuz Kalkavan, in attendance.
This September Sohar Port and Free Zone signed an agreement with Svitzer to upgrade its pilot vessel fleet and to provide round-the-clock operational support for ship movements in and around the fast growing Omani port. Under the terms of the deal, Svitzer is to supply, man, manage, operate and maintain the two new pilot boats. The new craft will be constructed to withstand heavy seas and will be heavily fendered to protect them when bumping against the increasingly large vessels now calling into Sohar.